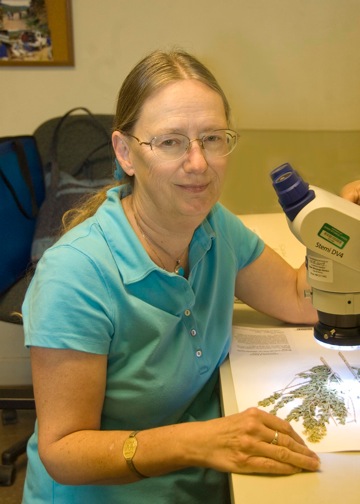 Susan at work in the Herbarium at the Desert Botanical Garden
Susan Ashton is a botanical artist living in Phoenix, Arizona. She received Certification in Botanical Art and Illustration from the Phoenix Desert Botanical Garden in 2010. She has exhibited at the Kolb Studio at the South Rim of the Grand Canyon and has had a solo exhibit as well as being a featured artist at the Cathedral Center for the Arts in Phoenix. She has also contributed to the Grand Canyon Project which is documenting the rare or threatened plants of the Grand Canyon.
Susan has been drawing and painting most of her life, despite little formal instruction. Until recently her only art training was grade school art classes in her native Rhode Island and art electives taken while studying Anthropology/Archaeology at Beloit College in Wisconsin, B.A 1970. The college art classes were disappointing, however, since they didn't teach techniques – the trend of the time was to turn students loose to "create" without much guidance. Art became an evening recreation, doing small works in pen and ink with watercolor for herself and for friends. Her scientific drawing skills were first developed illustrating archaeological artifacts before and during college, at the Haffenreffer Museum in Bristol, RI, and the Logan Museum of Anthropology at Beloit. These skills proved useful doing drawings while cataloguing the museum collections for the Lynn Historical Society Museum, where she worked as the museum curator and assistant director after college.
After joining the Society for Creative Anachronism in 1976 she found her artistic talents in demand doing heraldic art, and she taught herself calligraphy and medieval style illumination to do awards scrolls. Medieval art became Susan's specialty for a long time, far outliving her association with the SCA.
With her husband, Susan moved to Phoenix in 2003, joining the Desert Botanical Garden that same year. Living in the southwest with its magnificent scenery and unique vegetation, combined with her life long interest in natural history and horticulture made her want to capture what she saw in art. Painting the natural world would also provide a break from the physical demands and detail inherent in her medieval art. In 2006 Susan decided to try a class at the Desert Botanical Garden in botanical painting with acrylics. This experience was much more satisfying than her college art classes. In 2008 she decided to try a class in the specialized technique of botanical watercolor, which she found very rewarding. This led to further instruction at the DBG in other media, including graphite, pen and ink, and colored pencil. Later in 2008, with the encouragement of her instructors, she joined the certification program for botanical art and illustration sponsored by the DBG. Susan's work on the Grand Canyon Project, researching and illustrating rare or threatened plants of Grand Canyon National Park, were part of her Independent Study project for certification. Recently Susan has been working on scientific illustrations in pen and ink for publications, including new species. This specialized form of botanical art requires careful measurements and microscope work. Susan finds it a bit ironic that botanical art can be just as detailed and physically demanding as her medieval art. Susan is a member of the American Society of Botanical Artists (ASBA) and the Southwest Society of Botanical Artists (SWSBA).
All art on this web site is copyrighted by Susan Ashton, 2011.
For information contact SAshtonArt@cox.net.